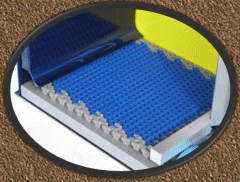 Hard-CORR Converting Products, LLC
Parts & Service For PRIME Technology & Serenco
Shur-Feed Lead Edge Feeder & Flexo Folder Gluer & Rotary Die Cutter
443-834-9916
---
Products: Prime Feeder Upgrade Program


Hard-CORR offers an Upgrade Program for Shur-feed Lead Edge Feeders that are in need of rebuild. Often equipment rebuilds are compromised due to the lack of time to properly audit a particular machine to determine the required parts. The "Even Exchange" program provides a complete updated wheelbox assembly, side frames, lowering mechanism and gear train, assembled at our factory. You simply disconnect the existing drive linkage, unbolt and remove the feeder. The new unit will then "plug" into place and you will be up and running with an updated Shur-feed in a fraction of the time it takes to rebuild your existing unit.

Additionally, these new updated "Even Exchange" Shur-feeds are equipped with Thompson hardened shafts and greaseable roller bearings throughout to replace the bushings. The precision hardened gear train is assembled on the latest press-in flanged studs to assure reliability. The lowering mechanism is provided and available in one of two ways. The first is our standard configuration, which utilizes a hardened cam with a greaseable cam follower and new interrupt components. The second consists of those same components enclosed in an oil bath with steel interrupt components to assure an extended life of any wear items.

These units are sold at a fraction of what the individual components would cost!

Why compromise and limp along trying to get away with questionable parts. Extend the life, increase the efficiency and reliability of your feeder with an updated Hard-CORR "Even Exchange" Shur-feed Lead Edge Feeder! It may be the last rebuild you ever need.
For more information about our Products
please Contact Us now!
---
HOME | PARTS | PRODUCTS | SERVICE | CONTACT
Copyright © 2011 Hard-CORR Converting Products, LLC