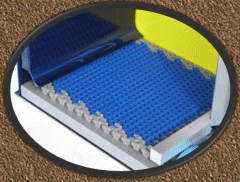 Hard-CORR Converting Products, LLC
Parts & Service For PRIME Technology & Serenco
Shur-Feed Lead Edge Feeder & Flexo Folder Gluer & Rotary Die Cutter
443-834-9916
---
Products: Waste Watcher with Anilox Guardian
Application:
All converting/finishing machinery

Description:
WasteWatcher allows an operator to remotely stop the press from any location within 150' of the machine. Will also stop the sheet feed. Machine can be restarted in the normal fashion using the existing controls. Faster stops mean less waste!
The Anilox Guardian senses if the roll is inked and has stopped turning (E-Stop or jam-up) and warns the operator. A stationary anilox roll will dry out and be ruined.
Features:
1. Remote control of Fast-Stop, Normal Stop, Stop Feed. - reduces waste!
2. Operator has personal remote actuator.
3. Sensor: anilox roll inked, anilox roll stopped
4. Indicating light and horn annunciate an anilox roll problem.

Components:
(1) NEMA Electrical box
(3) 3 button remotes & (3) receivers
(1) PLC
(1) proxy-sensor & flag
(1) Blinking warning lights
(1) Horn/Bell


For more information about our Products
please Contact Us now!

---
HOME | PARTS | PRODUCTS | SERVICE | CONTACT
Copyright © 2011 Hard-CORR Converting Products, LLC